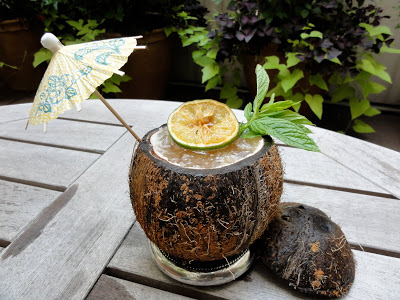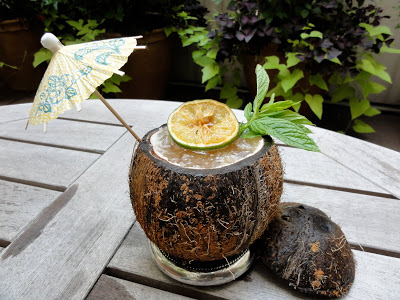 Coconut Moscow Mule in Tropical /Kombucha
2 oz Ciroc or Skyy Coconut Vodka
1/2 x 350ml  bottle of Pep Tea brand Organic Sugar Free, Lime & Ginger Kombucha
1 oz Freshly Squeezed Lime Juice
1 Tbsp Coconut Flakes
1/2 oz Simple Syrup
8 Mint Leaves
Ice
Just in time for summer time! Here is a tropical twist, and we'll even allow you to forego the copper mug if you're enjoying this one out of a coconut or pineapple.
Drop mint, coconut flakes, and simple syrup into the bottom of your mug of choice and muddle until leaves are finely ground and you can smell the flavors. Fill with ice, and pour liquids. We like to add a dash of coconut flakes to the top for garnish. And there you have it!
Love this Coconut Moscow Mule recipe? Of course you do – we wouldn't put up a bad recipe here! And we love you for trying it.
Serve this one in a coconut shell… Once you have enjoyed  the fine taste of organic kombucha as your cocktails mixer, (even fruity non alcoholic cocktails) you will want to  Buy Kombucha in Bulk  from Sydney'a wholesale Food suppliers .
Pep Tea brand is where to Buy Kombucha in Australia.
Tags: Fruity Mule Recipes